Hi,
I'm making reasonable progress learning Chopin's Nocturne in Eb Major (Op 9 No 2). However I'm stuck on a particular measure. In my sheet music it's measure 17, but in case that's different for others, I've got a screenie of the measure highlighted below: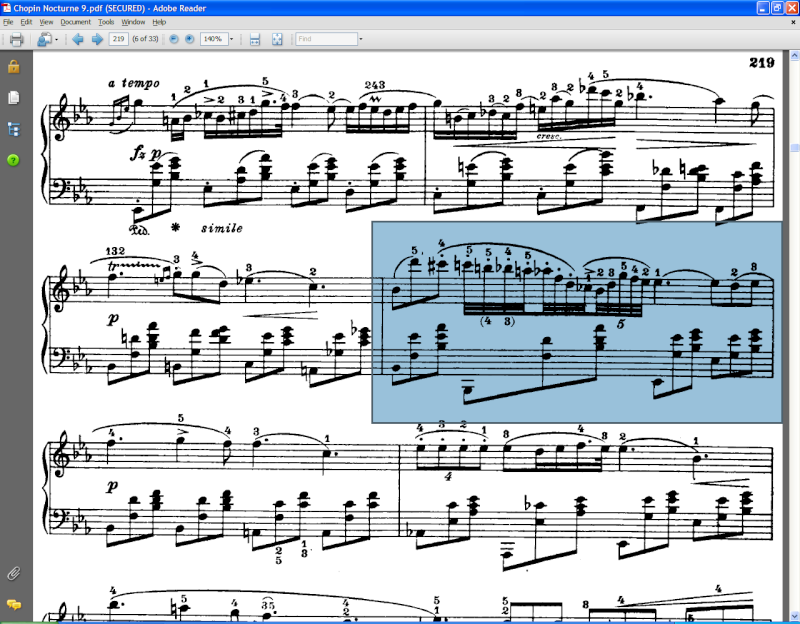 The problem I'm having is that whatever timing of the left and right hands I apply while playing it, it sounds terribly wrong. I know the particular phrase is a (excuse my non-technical parlance) kind of bastardization of a similar phrase that occurs twice earlier, but it is radically different to the earlier phrasing (which I play fine). It feels like it's that earlier phrase with extra notes thrown in but I can't slot them into the time correctly, resulting in it just sounding like I'm playing an odd part of a scale rather than a musical phrase.
I've listened to lots of interpretations of the piece, and have noted that some (such as Arthur Rubinstein) completely omit the section and instead play the later 'version' of the phrasing that occurs subsequently (maybe because it sounds better), while others do appear to play it just as it's written on the screenie I've posted above and make it sound reasonable. So it's possible. But not when I do it!
Any tips on how to, I don't know, how to 'perceive' it rhythmically, cos something bad happens in between me reading it and trying to play it. Could it just be that it's particularly bad sounding if it's not played at full speed (whilst learning most of the piece up until that point, playing it at a megaslow tempo still resulted in something recognizably pleasant until I get to this problem measure, when it just doesn't sound musical when hobbled - maybe cos it's too fast and indistinct to hum it in my head like I do with the rest of the melody?). Like some guitar solos that go way fast can't be hummed so aren't as easy to learn melodically. I don't know. Any tips, insights, advice? Which notes are grouped or accented, etc.? If someone could throw me a bone I'll run with it.
Thanks.

Statue

Beginner pianist





Number of posts

: 9


Guru Points :

2


Registration date :

2010-02-04



Hey!
It's a lot about phrasing in this section: note the portato articulation on the first notes! It's not really a legato, it's more as if something was falling slowly, like a leaf kind of pushed up by air on its way down, if you see what I mean.
Rhythmically, your sheet is wrong: it's not 4-4-5 but 32nd notes until the 3 last which are triplets! Chopin also writes the Cb of the right hand together with the left hand chord, which means it's to be understood as a 9th appogiatura. This idea is reinforced by the sign written over it (a decresc. NOT an accent). The fingering is good, it's the one Chopin wrote: you should use it, it could help in rendering it.
You do need to slow down to render it well: at a too fast tempo it would just sound like an odd chromatic line going down.
You're right when you say that the section is a more complicated version of what happened before. It's a small virtuoso digression and as such can be played with a broader tempo in order to give it grace...
Avoid playing it with a lot of pedal. This could help too... The problem is that I don't know how you're playing it!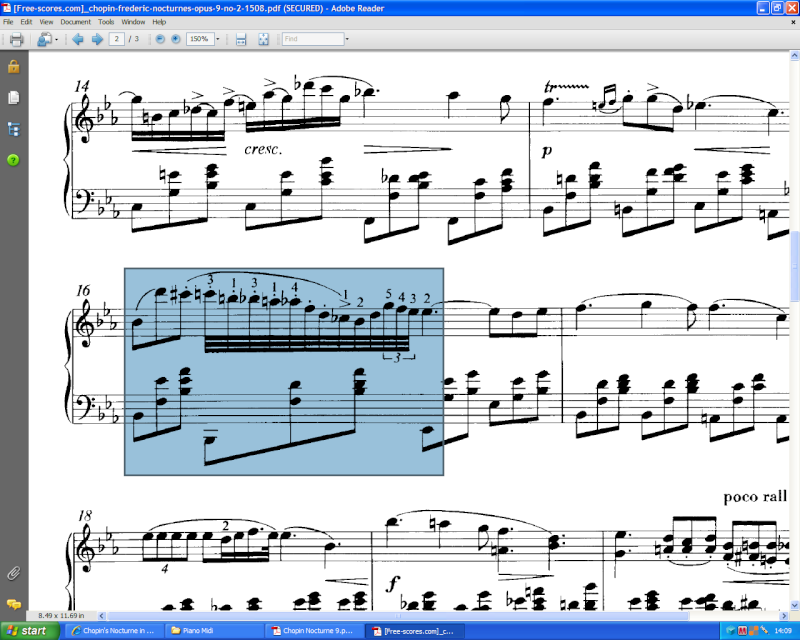 I just got a different sheet music file and have again highlighted the measure in question, and I can see what you mean about the grouping of the notes (4-4-5) being odd in my original sheet music. The one shown in this post (my new one) is as you say all 32nds with a triplet for the last 3. I'm not sure I'm good enough at reading music to know whether that might have contributed any to my problems with playing the phrase or not!
I note also the fingering is different in this new sheet compared to the old one. Guess it's worth trying the different fingering out and seeing if that helps. I did find the original fingering with the first batch of notes all on the fifth and fourth finger a little odd, especially compared to how I was fingering the previous simpler versions of the phrase (where I could keep my right hand relatively still in comparison, with only one movement of my hand during the run, and that a small movement with a nice intuitive landmark finger).

Statue

Beginner pianist





Number of posts

: 9


Guru Points :

2


Registration date :

2010-02-04



This second fingering is easier to do, but it gives a harsher sound! Chopin didn't write his fingerings by chance
The difference of hand moves between the first phrase and this variation is intended, which supports the first fingering: it's a different articulation, a different spirit: the first one is legato and is just about singing the melody, the second one is a light hearted, virtuoso variation of the first one, and is to articulate portato.
Ah! Light bulb over the head moment came with those last two posts
I think the source of my problem was that because they're essentially alternate versions of a similar phrase, I was trying too hard to see the variation as something I could produce by 'slotting in' the extra notes into the already learned hand positions for the earlier phrase (which doesn't work at all as I haven't managed to grow the extra fingers in between my existing ones!). I'll go back to the variation and treat is as learning an entirely separate part, and will stick with the original fingering. I h8 it when I play something not as well as I hear others play it so wouldn't want to nerf myself by going for fingering that's easier but less musical
Anyone happen to have a video of the phrase being played slowly with the correct optimal fingering? I saw a couple of tutorial videos on youtube, but the performer was using what I'd call highly stylised fingering (i.e. wrong but worked for his hands!).

Statue

Beginner pianist





Number of posts

: 9


Guru Points :

2


Registration date :

2010-02-04



Ah! I'm glad it made this "Oooh" effect :-D
Indeed, the variation here is not to be thought of as "the same thing with extra notes" but rather as a different way of concluding the phrase.
So I went back and tried relearning that problem phrase, but I'm still not playing it in a way that sounds right.
I've recorded myself playing the phrasing and uploaded it here. In the clip I play three forms of the phrase.
The first form is how the phrase appears initially in the piece, and I'm reasonably happy with my rendition of it (enough to not cringe anyhow).
The second form is how the phrase appears on its second occurrence in the piece, which is essentially identical to the first but with an extra grace note (I'm not a fan of that grace note at the best of times, specially when I'm playing it!).
The third form is the one I am having issues with. I'm fairly certain I hit all the right notes and in the right order, which is a start I guess
But it doesn't seem to flow right for my ears. I looked at my performance as a midi file and noted that all the notes were played evenly and equidistant, which might reflect the problem - that they're not supposed to be equidistant?
Now that you can hear how I'm murdering that phrase, are there any tips for me (other than to do what I'll be doing anyway, i.e. keep playing it over and over until I'm happy with it!)?
Thanks.
http://www.filedropper.com/nocturnephrasing
Last edited by Statue on Fri Feb 12, 2010 2:38 pm; edited 2 times in total (Reason for editing : Attempting to post a clip :))

Statue

Beginner pianist





Number of posts

: 9


Guru Points :

2


Registration date :

2010-02-04



Hey there!
First of all, the last "eb" of the ornament is missing on your recording (the penultimate "eb").
You also tend to play the upper "g" right before the resolution much longer than the rest, which screws the rhythm.
I've never played that piece so I tried to sight read the sections for you:
mediafire.com ?omlayyz1nyt
I hope this helps
Hey, thanks for the help
I definitely hold that upper G longer, but that is semi-deliberate, not in that that's how it's notated or intended to be played, but that I do it as an attempt to recover after I've garbled the bit just before it. A bad habit of mine that I frequently employ when I know I've messed something up lol.
The recording helped, thanks - it's handy to hear it isolated like that. That's quite impressive for a first playthrough while sight-reading it btw
I shall nail it eventually!
Here I've uploaded my latest effort at the phrase in which I've forced myself not to hold the G to recover. It's not as terrible as I used to do it. I'm exaggerating some of the accenting I think, remnants of ones I dropped in to learn the note patterns. Made sure not to drop the Eb this time
http://www.filedropper.com/phrase2
Last edited by Statue on Fri Feb 12, 2010 4:46 pm; edited 1 time in total (Reason for editing : added clip)

Statue

Beginner pianist





Number of posts

: 9


Guru Points :

2


Registration date :

2010-02-04



Okay, so now I'm improving my rendition of that phrasing, which is good
So now I'm obsessing over my performance of the trills in the piece (not the final 4 note trill, I haven't learned that far yet so I'll save that to look forward to). I'm referring to the three main repeated trills in the piece, firstly an F/G trill, secondly an Eb/F trill, and then the one I find hardest, the extended F/G trill.
It's hard for my ears to pick out and count how many note pairs are being played when I listen to nice performances of it as they're obviously fast (well, easier with the first two of those three trills, harder for the extended one). Is the idea that you work out how many notes should be in a trill section by counting how many 32nds, 64ths, or 128ths or whatever (dependant on however fast you're playing it) 'fit' into the trill part of the measure? Or should you just wing it, and if you wing it, what's the reference point for starting and stopping? Is there a rule over how many note pairs should be played in each of those three trills? I also note that on the extended trill, some players start the trilling slowly and pick up the pace, making counting the timing of such variable speed trills quite troublesome.
The timing into and out of the trilling is also something I find tricky. You can kind of use what your left hand is doing to provide landmarks for when to begin and end the trills, but I've read advice arguing against doing so as it can inhibit the freedom of the trilling. At the same time, from experimenting I know that if I totally switch off the timing reference from my left hand and allow the trills to just happen, they run over or under, which results in it sounding like you're tripping over yourself when playing, a sort of 'catching up' between the hands (I note that some professional performances have that kind of a tripping over moment in them when coming into and/or out of the trills - presumably deliberate when they do it, rubato and all that!).
Any tips?

Statue

Beginner pianist





Number of posts

: 9


Guru Points :

2


Registration date :

2010-02-04



---
Permissions in this forum:
You
cannot
reply to topics in this forum